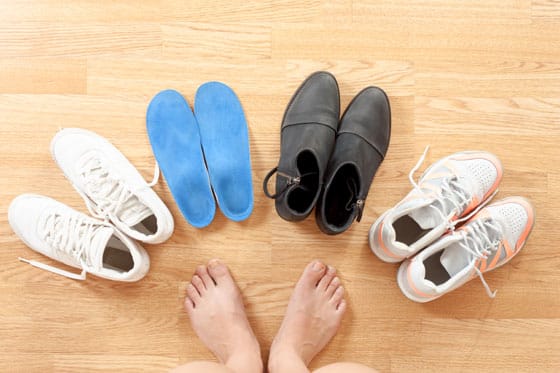 Back pain is one of the most common health issues bugging a lot of people today. You may not know it, but wearing the right type of footwear can potentially alleviate back pain. This article will explain how, as well as suggest some of the best shoes for back pain.
Back Pain: A Serious Health Condition
Back pain is a serious health condition that afflicts countless people around the world.  In the United States alone, surveys suggest that up to 80 percent of the adult population visit their doctors yearly because of backaches. It's also the second most common reason for medical visits. It can affect the flexibility, stability, and strength of the spine, leading to pain, stiffness, and discomfort.
Back pain is also one of the top causes of disability in the United States. It leaves more than 4 million Americans either chronically or temporarily disabled. What's more alarming is that back pain alone can cause more disability that 300 other conditions worldwide.
Back pain is often characterized by pain, tenderness, and stiffness in the back. Sometimes, the pain can spread into the buttocks or legs. People who complain of back pain are uncomfortable while sitting. They also have a hard time standing in a position for an extended period. Moreover, they complain of weakness and tiredness while walking.
There are many possible causes of back pain.  Sometimes it can be too obvious like a sports-related injury such as strain from twisting or bending.  It could be due to lifting heavy objects, or sitting in the same position for many hours which is often the case for office-based workers.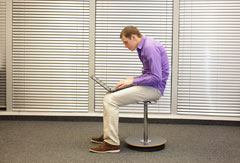 Sitting in a hunched position may also wreck havoc on your back. Excessive walking, overstretching, and even wearing the wrong pair of shoes can all have an impact on your back.
Shoes and Back Pain
Yes, shoes can be considered as a cause of back pain.
Experts liken our feet to the foundations of a building. If the feet are distressed due to wearing a poorly designed pair of shoes, then it will have an effect on the other parts of the body.  Mechanically unsound feet can alter the alignment of the other structures above it, like the spine.
Thus, shoes that don't give proper support and cushion to the feet can contribute to back pain.
There are many doctors who back up this theory.  One of them is Dr. John Giurini of the Beth Israel Deaconess Medical Center.  He says that shoes can affect the spine and back. He suggests that if a physician cannot attribute low back pain to any problem within the back may have to look at the way the foot functions in gait. Perhaps the use of more supportive shoes and even shoe inserts may help in addressing the issue.
Types of Shoes Bad for the Back
There are certain types of shoes that are known to cause back pain to its wearers. Arguably the most known of these is the high-heeled shoe worn by women. By definition, these are shoes with heels that are at least 2 inches high.
One survey conducted by the American Podiatric Medical Association revealed that more than 7 out of 10 women reveal they wear high heeled shoes. Around 40 percent who were surveyed said they wear high heels daily.  More women use high heels (around 77 percent) for special occasions like parties and weddings.
High heels may make its wearers look stylish and elegant but it can throw off the back's alignment. High heeled shoes can cause a lot of stress and strain on the back because they alter the center of gravity.
High heels cause a woman to lean forward, and this forces the body to decrease the forward curve of the back. This leads to poor alignment of the spine, resulting to the overuse of the muscles and back pain.
Flip flops may be comfortable to wear, especially during laidback weekends and trips to the beach. But this type of footwear, too, can compound back pain.  The absence of arch support can impact the feet, legs, and lower back. Arch support can lessen or prevent foot pain as well as provide balance and support.
Moreover, the design of flip flops would make the wear alter his/her gait. Flip flops don't stay on well due to its design. Thus people usually change the way they walk when they're on flip flops. Over time, wearing flip flops can result to foot and back pain.
Flat shoes aren't good either in preventing back pain.  Like flip flops, flat shoes don't have little to no support. While there are some flat shoes with built-in arches, these aren't enough to prevent back pain.
The arches in our foot serves as a shock absorber, lessening the impact of walking and running on the ankle, knee, hip, and lower back joints.  People who have flat feet tend to suffer more from back problems because their feet and arches are unable to properly handle and distribute stress of the body weight.
Shoes for Back Pain Relief
So what shoe should you wear if you want to prevent or reduce back pain?
Definitely, you'd want a shoe that can provide ample cushion and support for your feet.  The natural arch of the feet must also be supported. Moreover, look for shoes with shock absorbers especially if you're the type of person who likes to walk a lot.
The best shoes for lower back pain are those that:
Provide motion control. Shoes that are good for the back can aid in regulating the movement of the foot muscles while in motion. Running shoes are perhaps the best example.
Allow the middle part of the foot to strike the ground instead of the heels. Minimal shoes are the best example, as it is designed for long walks.
Give extra support to the feet, thus preventing abnormal movement of the back which is one of the causes of back pain.
Made from materials like plastic or graphite that can prevent abnormal motion of the feet.
How to Choose the Right Pair of Shoes
So how do you pick the right pair of shoes if you don't want to suffer from back pain?
The first step would be to determine the shape of your foot arch. There are three shapes or categories that your foot arch can fall into—normal, flat, and high.
To determine the shape of your foot arch, do the wet test. Pour water into a shallow pan, wet the sole of your foot, and step on a large piece of paper.
If you observe that around half of the arch region is filled in, you have a normal foot ach.  Meanwhile, you have a flat arch if the entire arch is filled in with water. But if the footprint shows you only the heel and the ball of the foot, then you have a high arch.
You can also go to a specialty shoe store and ask the personnel to help you determine the shape of your foot arch.
Now if you have a normal foot arch, you can wear any type of shoe although you should wear one that has an arch support to provide your feet with some stability.
Shoes with stability or motion control are best suited for people with flat foot arch, which is common in heavier people.  Lastly a neutral-cushioned shoe is the right one for people with a high foot arch as it offers maximum flexibility.
Running and walking shoes are also ideal for people with back pain, instead of footwear without arch support such as flip flops and flats.
Running shoes provides a lot of cushioning in the heel and forefront. Walking shoes, meanwhile, are constructed to provide more flexibility through the ball of the foot, allowing greater range of motion.
In shopping for a good walking shoe, look for a snug heel counter which is the area that holds the back of the heel. The midsole, or the area between the tread and cloth upper of the shoe, must also provide enough cushioning and support. The insole, or the area inside the shoe on the bottom, must contour comfortably to the foot.  Finally, the area surrounding the toes or toe box, must have enough room for the toes to move freely.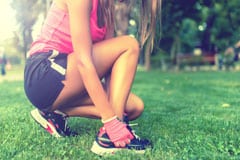 In shopping for running shoes, look for a pair that has motion control. It's particularly recommended for people whose feet overpronate, or roll excessively inward as the edge of the heel hits the ground.  If your feet supinate, meaning they exhibit an outward movement while in motion, then look for cushioning running shoes.
In case you can't let go of your old shoes but still worried that continued wearing will be detrimental to your back's health, you can also insert prescription orthotics  or shoe inserts.
These items can aid in improving how the feet articulate themselves on the ground.  Prescription orthotics is usually prescribed for people who have some sort of foot imbalance. But it can also be worn by those who usually complain of back pain.
Best Shoes for Back Pain on Amazon.com
Amazon.com is a good place to start shopping for shoes that are particularly designed to minimize stress on the feet, and subsequently, reduce back pain. Here are some shoes that you may be interested in getting:
This sneaker is equipped with a multi-layer orthotic insole that helps in alleviating foot and heel pain. It also has a gel padded, heel-seat that can relieve heel pain. It also features a lightweight cushioning sole that can soften every step, improve foot motion, and minimize the stress felt on the joints of the foot.
This sneaker is proven to be effective in reducing foot pain, knee pain,  and lower back pain.
You can wear this pair of shoes during casual days without worrying about back pain. This shoe made of full-grain leather has a patented coil that minimizes impact for every step you take. It has a built-in orthotic that provides the foot with superior stability and support.
If you can't let go of your habit of wearing sandals then you can replace your old thongs with this orthotic sandals from Stridetek. It is made of polyurethane foam and polyester with a rubber sole.
Unlike the ordinary flip flops, however, this one has a metatarsal riser pad that encourages proper biomechanics as well as an arch support that responds to the arch shape of the individual. It is also designed to hold the foot in its natural alignment.  It has a deep heel cup that stabilizes the foot against lateral movement.
This is another pair of sandals that you can wear during laidback days. Made of leather, it can correct posture and gait so that the health of the feet and the back won't be compromised. It also improves mobility and strengthens the core muscles. It's ideal for use of people with plantar fasciitis.
Another orthotic sandal, this item from VionicWave is recommended by podiatrist Dr. Andrew Weil. It is designed to relieve pain and discomfort associated with certain foot ailments.  It has a built-in biomechanical orthotic footbed that has textured dots for improved grip, and a deep heel cup for cradling the foot.
Unlike most flip flops, it can reduce pronation thanks to its tri-planar motion control feature that also restores the foot to its natural position.
Another good pair from Orthofeet, this is a lightweight shoe that is best suited for people with sensitive feet.  It has soft and smooth fabric lining inside, with foam padding that eliminates pressure points and enhances comfort.
Other Tips in Choosing Shoes for Back Pain
There are a lot of things that you should keep in mind when shopping for a pair of shoes designed to minimize back pain. These include:
Avoid shoes that require breaking in. The rule of thumb in shopping for a pair of shoes is that it should be comfortable to wear the first time you tried them on. Don't buy shoes that require breaking in, as there's a chance that you might just end up hurting your feet with ill-fitting shoes. This is why many people still prefer to buy shoes in brick-and-mortar stores, because unlike in online stores, they can try the shoes first before buying. But if you can't help but buy a pair online, make sure that the seller gives a money-back guarantee.
Measure your feet. This is something that will come in handy when you are buying online.  Shoes must have enough space to fit the index finger between the foot and the back of the footwear.
Shop at the end of the day. If you've decided that you are to buy shoes the traditional route, schedule your trips to the mall late in the afternoon and evening. Your feet would be larger at the end of the day due to fluid buildup.
Always consider the terrain that you find yourself in when buying shoes for exercise or work. For example, if you often run in the streets, you should buy shoes that have extra cushion in the heels. The same goes if you are always standing on concrete floors for extended periods.
Replace shoes frequently. Unfortunately, shoes won't last as long as we want them to be. Worn out shoes will no longer provide the right type of support for your feet, ankles, knees, and back. For example, running shoes that have been used for six to 12 months by an active runner may no longer give the require support to prevent back pain or injury.
Choose the right shoes for your activity. Not all shoes are appropriate for all activities. For example, running shoes aren't designed for playing other sports like tennis and basketball. Walking and running shoes aren't also the same.
To be sure of the type of shoes you're getting, go to an athletic shoe store and consult with the salesperson on the right kind of athletic shoe for your activity.
Conclusion
Back pain is one of the most common reasons people flock to doctors' offices. Many of us think that back pain is due to factors like old age and injury. But surprisingly, even the shoes we wear can have an effect on the feet and how it supports the other structures above it like the spine.
Whether you are working out, walking, standing, or exercising, your body is dependent on your feet to support its posture and gait. This underlines the need to find the right pair of shoes that can improve your overall balance and minimize back pain and injuries.  By wearing the right footwear, your feet will be more mechanically strong to support your spine and in a way, resulting to back pain relief.