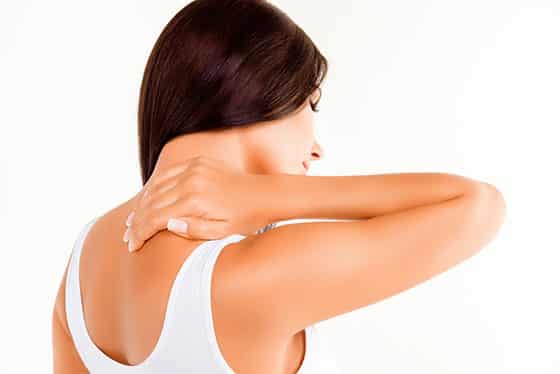 Back pain caused by a combination of factors including poor posture and large breasts, which are interrelated, is among the most common health issues faced by women. In most cases, women with large breasts can suffer from poor posture because of their wrong choice in bras, especially when engaged in sports. The best back support bra, also known as posture bra, is then a must-have investment for women, especially those with large breasts and/or actively engaged in sports (e.g., running).
But don't just buy the first posture bra that manufacturers and retailers are selling because then you are more likely to make the wrong choice. Here are the crucial things that every woman must know about the best posture bra – what it is, who should wear it, and what things to look for, among others.
What's a Posture Bra?
Basically, a posture bra has features that achieve two goals:
Provide effective support to the breasts so that these stay in place, so to speak, instead of jiggling around the chest; and
Prevent tension buildup in the neck, shoulders and back that can be caused by poor posture
The basic features in back support bras are the large supportive band around the chest, the separate cups, and the racerback design with front closure. These features ensure that the bra carries much of the burden of supporting the breasts, thus, contributing to better posture, as well as removing the muscular tension from your body specifically your neck, shoulders and upper back.
The back support bras posture relationship can be easily seen when the wearer doesn't slouch and stoop as much as before. Standing up straight becomes so much easier, thanks partly because the bra's straps aren't pulling and digging on your shoulders. Even moving around becomes more effective and efficient because the breast-related load becomes lighter, in a manner of speaking, due to the support, comfort and stability provided by the bra.
Who Will Benefit the Most from a Posture Bra?
Of course, every woman with breasts regardless of their size and shape can benefit from wearing the right posture bra for their body. But if you belong to one of these categories, then you will benefit the most from wearing posture bras.
Women with large breasts
While large breasts are deemed desirable by both sexes – these denote femininity and fertility in many cultures – these can also be a burden. Your twin globes, as these are euphemistically called, can pull your body forward resulting in a more slouched or stooped posture, unless you consciously and constantly pull your shoulders back. Your risk for upper back pain increases due to the added weight but it can be reduced by wearing the best back support bra on a regular basis.
Women who have poor posture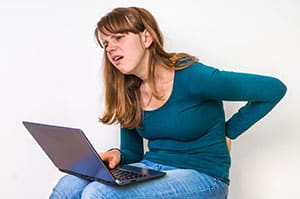 Large breasts may be the main reason for your poor posture but there can also be other reasons. You may, for example, have developed poor posture from a lifetime of unhealthy habits, or the use of non-ergonomic furniture, or health issues in the back (e.g., scoliosis). You will find that wearing a back support bra can improve your posture by addressing many of the causes for its poor quality before.
When large breasts and poor posture combine, this usually results in chronic back pain to the neck, shoulders and upper back. You will likely feel either sharp pains that come and go or dull aches that appear to stay like a pest. You will then want an effective solution to your suffering – and the right posture bras may well do the trick. You can even say goodbye to near-debilitating muscle tension headaches, thanks to the decreased muscle tension in your neck.
Women who stand up or sit down for extended periods, usually at work
Even when you have proper posture, you can still slouch after in the same relative position for hours on end. You may have a desk job so sitting for four hours straight becomes common. You may, in contrast, have a job in sales or services that demand standing up and moving around for extended periods.
In either case, you will benefit from wearing a posture bra that can provide effective support to your breasts. You will enjoy the significant reduction of burden on your neck, shoulders, and upper back. Your days of standing up or sitting down for extended periods followed by pain in your upper back can be a thing of the past.
Let's just say that women who want to enjoy the physical and psychological benefits of good posture will benefit from posture bras. Old and young women from all walks of life should consider buying posture bras alongside their sexy lingerie.
When Should Wearing a Posture Bra Become a Must?
You can obviously wear a posture bra every day, if you want to, especially when you have large and heavy breasts. But you may also choose to wear it only on certain days when you need more effective support for your breasts and back. You can, for example, wear it during light physical exercise and when involved in physically challenging tasks, such as cooking for a large party, gardening, and lifting furniture.
You may also want to wear it every day as part of your wholistic therapy to rid yourself of poor posture and back pain. You must remember, nonetheless, that even the best posture bra isn't the be-all and end-all of said goal. You have to adopt healthy lifestyle habits, too, including being conscious about your posture when sitting, standing and even sleeping.
Furthermore, sports bras and posture bras are different. When you're engaged in sports activities, such as Pilates, running on a treadmill, and weightlifting, the best choice is a sports bra since it's sturdier and stronger, as well as more breathable, than a posture bra. You will also find that a sports bra keeps the jiggling and bouncing of your breasts to a minimum – and a posture bra won't do it as well as necessary.
What Are the Characteristics of the Best Posture Bras?
Before we look into the features that make for the best posture bras, let's first take a look at its characteristics.
The breasts should be covered by the cup and supportive triangle. The purpose is to support every part of the breasts without constricting its natural movement. The inner supportive triangle should be present, too, as its places and supports the breasts in their proper position.
The breasts should be halfway between your shoulders and elbows when wearing a posture bra. Too high and too low breast position can still cause discomfort since the breasts are in an unnatural placement.
The support should come from below the breasts instead of coming from the shoulder straps. If the straps are digging into the shoulders, then the support is likely coming from them.
The support provided by the bra should be sufficiently firm so that most of the breasts' motions during walking, running and jumping can be reduced. Again, if you're into physically strenuous sports, your best choice is a sports bra.
The bra shouldn't exert pressure, either pulling or pushing, in redirecting your breasts as well as in limiting blood circulation. You must choose a posture bra in the same manner as you would a regular bra – take your measurements and select according to the sizing chart.
The bra should be made of soft, breathable fabric so that it feels comfortable against the skin. You shouldn't also feel discomfort from wires and stays and, in fact, the best posture bras don't have these things.
The best back support bras should also be designed to flatter your breasts, as well as be designed with beautiful aesthetics in mind. You should get both form and function in these women's products, just as you expect from regular bras.
With that being said, here are a few features that you should look for in the best posture bras.
Separated cups
Each of the cup should cover each breast from the top to the bottom so that overall support can be provided. This can be achieved by separated cups that will, indeed, separate your breasts in a natural manner, perhaps even give your chest a sexy cleavage.
If a so-called posture bra squishes your breasts, almost into a uni-boob, then it isn't a great product. You will likely still suffer from carrying the burden of your large and heavy breasts. Your breasts should be shaped well while still being supported by the cup and chest strap. You should also check that the bra's center gore lies as flat as possible on your chest.
High racerback style
The best posture bras always have the cross-back design, also known as a high racerback style, coupled with a front closure. The cross-back design has a purpose – it's the most effective in terms of support for the breasts.
But not all posture bras with cross-back design are best for you. You have to choose one with a high back so that the tension on your upper back can be relieved. You will find that one with a low back still means poor posture because you will find it more difficult to stand up straight.
Front closure
The front hook on a posture bra has two benefits. First, you will find it easier to clasp and unclasp the bra from your front, as well as adjust its fit. Second, you will enjoy more support since the support comes mainly from your front instead of your back.
The number of hooks is a personal preference although most women swear by the four-hook system as the best. Plus, four hooks mean that the bra has a wider strap underneath the cups so there's more support for the breasts.
When you're looking for the best posture bras for your needs, you can keep these tips in mind so that you can make the right choice.
Buy only from reputable manufacturers and retailers.
Check the delivery, return, and refund policies for your own protection as a consumer.
Read the reviews for the products so that you can a general idea of your fellow women's experiences. Look for aspects including durability, support and comfort while wearing the bra.
Always measure your bust according to the manufacturer's instructions. Buy only within your size for the best results – too large and you will not get the best support, too tight and your breasts will feel discomfort.
As soon as you receive the posture bras, you should try them out for a few minutes at a time. You should observe your breasts' shape and feeling while wearing a back support bra before deciding whether it's exactly what you're looking for.
What Are the Best Posture Bras?
Here are our best picks for the best back support bras for women of all shapes, sizes and age. We suggest looking at the style and sizes of these bras before making your choice.
Leonisa Women's Wireless Posture Bra
This is a multipurpose bra that can be used as a regular bra and a posture bra so it can become your everyday bra, too. You can wear it under your casual street clothes and business ensembles, especially as its design allows for lying flat against your skin. You don't have to worry about the straps, band and cups showing through for as long as you're not wearing sheer or thin fabrics.
When worn properly, as well as sized well, the bra gently yet firmly aligns your back from the shoulders to the waist into a good posture. This is achieved by a combination of full contoured cups made of soft fabric and crisscross reinforcement bands, which provide added support to the breasts. The shoulders become less strained from the burden of carrying large breasts, too.
The front closure features three columns with two hook-and-eye adjustable straps. You can adjust the tightness around your chest easily, in contrast with back closures that involve fiddling with the hooks while facing away from them.
The bra comes in several colors – black, white, nude, and soft apricot. This looks good as much as it feels good when worn.
Glamorise Women's MagicLift
This is a wireless bra that features wide bands made of cotton, Spandex and Lycra, said bands of which form a supportive crisscross pattern in the back. The MagicLift design essentially provides incredible shape and support to the bust area that, when combined with the cushioned inner band, means this is among the most comfortable posture bras available.
The front hook design makes it easy to adjust the tightness of the band while the extra-wide shoulder straps can also be adjusted according to the best possible bra height. These straps also don't dig into the skin so discomfort is a non-issue with it. Just as with regular bras, you should ensure that your breasts are positioned between your shoulders and elbows for the best fit.
Choices in colors are white, black, and café (brown). These are basic colors that work well with most colors in your wardrobe so you can also wear it as a daily bra – unless you want to look and feel sexy for yourself and your man, then lingerie is a better choice.
The support bands are also designed for effective separation of the breast, as well as for its shapely uplift and excellent support. Your breasts will be snugly yet comfortably enclosed in each cup (i.e., good separation) so their weight can be evenly distributed. You will soon feel your back pain being decreased, if not completely gone when you wear it on a regular basis.
Exquisite Form Women's Posture Bra
This is designed for women with fuller figures and, thus, larger and heavier breasts. The breathable natural cotton material can be washed by hand or in the washing machine so it's so easy to maintain. Plus, you will find that it's one of the few of the best posture bras with 100% cotton as the base material –in contrast, most bras are made of synthetic materials although it isn't a bag thing per se.
You can wear the Exquisite Form during warm days since the cotton material will stay drier than synthetic materials. The soft cotton cups, which have a delicate lace detailing, also provide sufficient support for the bust area. The crisscross design adds to its supportive quality, too, while the front clasp with five hooks and eyes are so easy to clasp, adjust and unclasp.
The available colors are black, white, and neutral while the sizes range from 35B to 46DD. The wide shoulder straps are also cushioned for added comfort.
In conclusion, the best posture bra should keep your breasts in place with minimum movement during normal activities, as well as keep your breasts supported and shaped. You have to consider the function first including the separated cups; the sturdy and strong breathable materials; the wide straps and bands; and the front closure with hooks and eyes. You can then consider the form, such as the fine lace details and feminine colors, afterwards.
In the end, your bra should make you feel like a modern woman – able to move freely as well as with confidence and purpose!