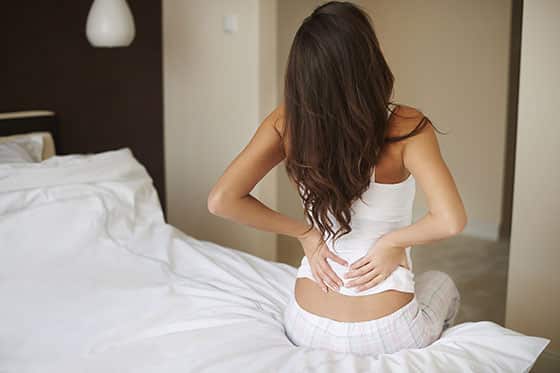 Many people sleep on the wrong mattress that, in turn, causes or worsens back pain, usually in the lower part although the shoulders, upper back, and hips can also be affected by chronic pain. This is because a non-supportive mattress strains the muscles, prevents the spine from being aligned, and reinforces poor posture while sleeping. The importance of choosing the best bed for a bad back cannot then be overemphasized, especially considering the physical and psychological health issues associated with it.
Here are our top tips and tricks in finding the best bed including its mattress for people who suffer from back pain. The health issue may be the result of an injury, an illness, and/or unhealthy habits but the best back support mattress will aid in pain relief, among other benefits.
Personal Preferences Still Rule
Unfortunately, there's no one-size-fits-all mattress and mattress topper because of the differences in personal needs and wants in these products. These personal needs and wants include your age, physical condition, and reason for your back issues as well as your personal preferences in the type, density and depth of the materials used for the mattress. The materials, for example, can be natural latex, memory foam, and spring coils that come in a wide range of density and depths affecting the level of comfort, support and stability provided by the bed.
The bottom line: Your personal preferences are still the best criteria for choosing the best bed for yourself. You have to carefully consider your desired balance in comfort and support before making your choice.
If you find a mattress or mattress topper that meets your standards in these terms, then it's the best product for you. You should be able to enjoy a good night's sleep every time you're lying on it. If you're not enjoying your sleeping experience even with a conducive environment, such as cool room temperature, dim lights, and relative silence, then it isn't the best bed for you.
Get a New Mattress, If Necessary
Many people with back pain can benefit from buying a mattress topper, a more cost-efficient yet still results-effective option to buying a new mattress. But there are also instances when a new mattress is necessary, especially if you have high risks for back pain or you already have back pain.
The best time to buy a new mattress is when your old mattress is already visibly sagging in the middle or in the sides, as well as when it feels too uncomfortable to lie on. In case of the latter, it can be attributed to damaged coil springs, deflated foam, or uneven depth in the mattress.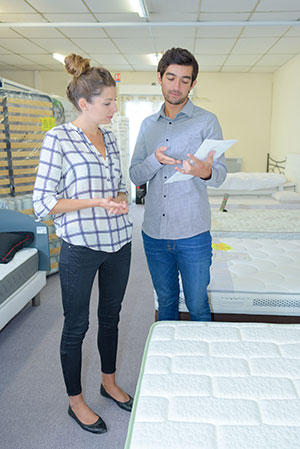 No matter the reason, you are well-advised not to put boards underneath and/or toppers on top of a sagging mattress. These are only short-term solutions that can, in fact, worsen your back pain since the sagging mattress issue is still present. The cost-efficient and results-effective solution is still a new mattress.
But don't just buy a new mattress for the sake of doing so. Keep in mind that you will be spending 6 to 8 hours on top of it so making the right choice is crucial, especially when you're looking for high returns on investment. We suggest the following tips when you're purchasing it.
Beware of advertising gimmicks. Be skeptical about claims like "medically-approved" or "orthopedic" because there are neither controlled clinical trials nor extensive medical research on the direct relationship between mattresses and back pain. Every individual has to determine whether extra features – and the higher price that comes with them – make a mattress more supportive and comfortable in his case.
Shop based on the quality and value of a mattress instead of its price. Bear in mind that while mattresses with thicker padding and a higher coil number are more likely to be higher in quality, these aren't necessarily the best for your needs. We suggest comparison shopping to determine the best mattress for you.
Purchase a mattress from reliable stores. Be sure to consider the customer services reputation as well as the warranty, delivery options, and return policy, especially when you're shopping online. You will be unable to test-run the mattress before delivery, after all, so a favorable return policy will work in your favor.
Test-run each mattress, if possible, when you're buying in a brick-and-mortar store. You should lie on it for a few minutes to determine whether you will be comfortable in it. You and your partner should lie down on each side to decide whether you agree on its level of firmness and size, too.
Ask about the product information – size, materials, and style, among others – before deciding on its purchase.
Be sure to list down your personal preferences for a mattress, whether as a mental image or in written form. You can then quickly narrow down a shortlist of mattresses instead of being taken in by the sweet talk of salesmen. You will also spend less time searching the store, perhaps even spend less money than your original budget.
Consider Support and Comfort First
There are two major factors that should influence your choice in a new mattress or mattress topper.
Support
The innersprings, or coils, provide support for the spine from the shoulders to the hips. The best mattress for lower back pain sufferers have a sufficient number of innersprings that support the spine's natural curves and alignment – too soft and the spine sinks too much into the mattress, too firm and the spine feels like it's lying on a stiff board. The right level of support also reduces the risk of muscle soreness, even a feeling of muscle fatigue, in the morning.
While there aren't extensive medical studies on the matter, many studies have nonetheless found that medium-firm mattresses typically provide more support for people with chronic back pain. In turn, the sufficient support means more back pain relief, especially when combined with lifestyle changes like proper posture.
Comfort
The padding, which can be memory foam or natural latex, on top of the mattress determines the comfort level. If it's a thick padding, it's known as a pillow top, a favorite among many people who want a "sleeping in the clouds" experience. This is, however, a matter of personal preference, too – some people like a pillow top while some like a thin padding.
You should look for a mattress with the right balance of comfort and support for your back. Sleeping on a too firm mattress can dig into your pressure points, so to speak, while sleeping on a too soft mattress can cause an unnatural bending of the spine. In both cases, your back pain will worsen.
Again, a medium-firm mattress is likely the best mattress for side sleepers with back pain. You will find that it offers good support for the spine yet allows your shoulders and hips to slightly sink into it. You may want a firmer mattress, nonetheless, so you can choose one with a pillow top for greater comfort.
Understand the Mattress' Physical Components
When you have an understanding of the physical parts of contemporary mattresses, you will have more information about choosing the best type for your needs. You will also not be so taken in by the sales talk of the store salesmen so you can make the right choice and get the right value for your money.
The innersprings provide the back support, as previously mentioned. These come in different thicknesses (i.e., gauge number) and in different numbers (i.e., concentration) so there's always an abundance of choice in terms of support. In general, the lower the gauge number on the innersprings, the thicker and stiffer these will be and, thus, the mattress will be firmer. While a higher concentration of coils can indicate a higher quality mattress, it doesn't necessarily mean it's the best bed for you. You have to use your own judgment in determining whether the mattress can alleviate your back pain or not.
The padding part determines the comfort level, as well as indicate quality along with the innersprings. There are several materials used for it, such as cotton batting, polyurethane foam, and puffed-up polyester as well as memory foam. The thicker the padding, the more comfortable the mattress can be but it also doesn't mean that it's the best in your case. You have to remember that support matters as much as comfort. A mattress may have thick padding but if it doesn't offer sufficient support for your spine, then it isn't worth the extra cost. The padding may also consist of two types, namely, the middle and insulation padding. The middle padding, usually made of a foam material, lies below the quilted top layer. The insulation padding, which lies on top of the innersprings, serves two purposes – to keep the sleeping person as cool as possible and to protect the top layers from being damaged by the innersprings.
The ticking is the outer layer and the quilting attaches it to the padding's top layers. Check that the stitching on the quilting has an even and consistent quality.
The foundation, also known as a box spring, adds support to the mattress. You can choose from wooden and metal frames with springs. You should also consider buying the foundation and mattress as a set to preserve the latter's condition for an extended period.
When considering a mattress, you have to account for all of its parts since it will not be the best mattress for you when one of them doesn't meet your needs in support and comfort. For example, you may like a mattress with thick padding but if its innersprings will not provide adequate back support, your second thoughts are justified.
Consider Toppers, Too
If your current mattress still works well but you're looking for more support and comfort, then you will want to consider mattress toppers. These are cost-efficient solutions in the sense that these are more affordable than an entire bed-and-mattress set although other non-monetary considerations should be considered.
Many people who have herniated disks, among other examples of nerve injuries in the back, prefer extra-firm mattresses to keep their spines as stable and straight as possible while sleeping. Their decision makes sense since even a single degree of spine instability while in a prone position can increase the acute electric-like pain of sciatica.
Many of them choose an ultra-soft mattress topper but this isn't such a good decision despite the wonderful feelings experienced while lying over it in a furniture showroom. This is, in fact, a highly risky choice because these toppers make people sink in too much into them, thus, re-triggering back pain.
The best choice: Fiber-filled toppers with sufficient thickness, which will provide cushioned comfort, decrease heat buildup, and promote air circulation, all without sacrificing on spinal support.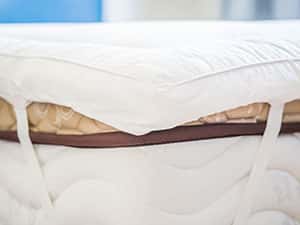 Of course, many people also say that the best mattress topper for lower back pain is made of memory foam. But we suggest considering the pros and cons of memory foam toppers before buying one, especially as these are more expensive than natural latex toppers.
Memory foam forms around your body's contours and memorizes them, so to speak. You will then enjoy sufficient support on your pressure points so you can wake up with lesser back pain. You can also enjoy greater comfort in comparison with natural latex provided that the memory foam has the right thickness and density.
But the contouring reaction requires body heat to set off a chemical reaction, which can also release malodorous smells (i.e., chemical smell). The sleeping experience has also been compared to sleeping over damp sand, which can create a close-fitting feel.
Your body should also heat up the foam every time you shift positions before the contouring reaction sets in, which can take up to 15 minutes. You may or may not find your sleep becoming more restless because re-heating the memory foam takes time so your sleep can be interrupted.
If you choose memory foam as your best mattress topper for back pain, then you should choose the right one for even weight distribution, good back support, and comfortable sleeping experience. Experts suggest memory foam with a density of 4 to 5 pounds/cubic foot.
But you can also choose natural latex foam, which has a more breathable and suppler feel than memory foam, gel foam, and hybrid foams. You may find it more suitable for your needs in alleviating back pain, whether as a memory topper or a mattress.
We suggest keeping these tips in mind when choosing mattress toppers, whether you're choosing a memory foam or a natural latex foam topper.
Consider the thickness of the topper – the thicker the foam, the greater the comfort provided. We recommend choosing a topper with at least three inches in thickness for better sleep quality.
Factor in the firmness level of the existing mattress. If it's fairly soft with little back support, your best choice is a firmer topper. If it's on the firm side, then you can benefit from a thicker topper since it's likely to offer a softer feel.
Tip: Avoid extra-firm toppers since these have a sleeping-on-the-hardwood experience if you're a side sleeper.
The density will also affect the firmness level. Topper densities can be as low as 2 pounds/cubic foot, which has a more comfortable (i.e., plusher) feel but it doesn't provide enough back support. Toppers with 3 to 5 pounds/cubic foot densities provide medium-firm experience, the best for back pains since it's neither too firm nor too light. The latter also allow your body's back shoulders and backs to slightly sink into the mattress while still properly aligning the spine – and you will be less likely to feel back pain.
Measure your mattress before shopping for a topper. The latter should completely cover the mattress for best results.
Consider your own weight. The topper should withstand your weight without bottoming out as well as handle the added compression generated by your body. You can, for example, choose a 4-inch topper with a 5 pounds/cubic feet density, if you're a plus-size person.
Just as with mattresses, you are well-advised to test-run the mattress toppers on your shortlist, perhaps even place it on top of your current mattress. You must then ensure that the store where you bought it has a favorable return policy.
But even the best mattresses require proper care and maintenance so that you can get the best benefits from them. Experts suggest repositioning your mattress once every six months so that it becomes evenly worn, as well as flipping it lengthwise and rotating it 180 degrees. We also suggest buying a new mattress that matches its foundation so that its life can be extended well beyond the manufacturer's estimate.
General Sleeping Guidelines
What's the best way to sleep for lower back pain? Well, it depends on the reasons for it with sleep experts suggesting the following positions for each diagnosis:
Osteoarthritis – Sleeping on your side with your knees curled up will open up the spine's facet joints so there's lesser pressure on them.
Degenerative disc disease – Sleeping on your stomach with a flat pillow below your hips and stomach can relieve pressure on the spaces between the damaged discs.
Spinal stenosis – Sleeping on your side in a fetal position (i.e., knees curled up) aids in relieving pressure on your nerve roots.
Bursitis – Sleeping on your back over a medium-firm mattress can relieve the pain although many doctors also suggest placing egg crates over a foam mattress.
Herniated lumbar disc – Sleep position depends on the injured disc's location. If you have a paracentral disc herniation, you can lie on your stomach. If you have a foraminal herniated disc, your best position may be sleeping on your side in a fetal position.
Hip pain – Sleeping on your side with a pillow between your knees can reduce the stress across your joint.
You may also consider slightly elevating your knees by placing a pillow under them to reduce your low back pain. Your doctor may also recommend sleeping on an adjustable bed, which will put your head and knees up.
Furthermore, the best way to sleep with lower back pain also depends on your preferred position:
On the back – Tuck a small pillow beneath the backs of your knees to take off stress on your spine.
On the side – Place a pillow between your knees to take off stress off your lower spine and hips.
On the stomach – Place a flat pillow beneath your hips and stomach for the same reason.
In conclusion, every individual has to find the right mattress and sleeping position that will alleviate his back pain. This will involve trial and error as well as consultations with your doctor but you should get there in time.